Custom Football Blankets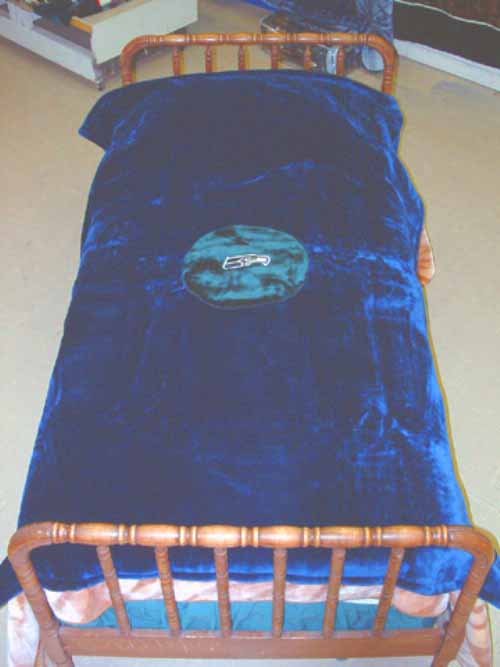 Click on image for enlarged Logo view
Any Football Team available
You name the team we make the blanket
Go to http://www.patchcollectibles.com/ to order your Pro Team Logo's
or Call 1-877-988-6900 and ask for Richard and request your order be shipped to :
Cuddlemewarm
1024 E. 10th Ave
Colville, WA 99114
(509) 680-1926
Then send us your Logo's and we will sew them on at no charge.
Note: Husky and Cougar Logo's on hand, no need to order.
These Cuddlemewarm blankets are 5 times as heavy as the stadium blankets.
Note: We Warranty Our Blankets 20 Years
It is not uncommon for a Cuddlemewarm blanket to last 20 to 30 years
87% Acrylic and 13% Polyester
All Machine Wash and Dry
When ordering enter the name of the team and what size blanket you want.
Enter this information in the comments area in the credit card billing section
Note: We will adjust the price per size of blanket when you order below!!!
Matching Pillow shams available upon request 2 for $99.99
Send us the Logos for Shams

Specification
Description
Weight
8 lb. 3 oz.
Fabric
85% Acrylic
Measurements & Prices

King 7'2X7'10" $149

Queen 6'6"X7'10" $139

Twin 5'X7' $129.00

Throw 3'5"X4'6" $79.00
Click Here for for Printable Order form to fax or mail